STL and 3D file sites – free and paid for
October 27, 2022
0 Comments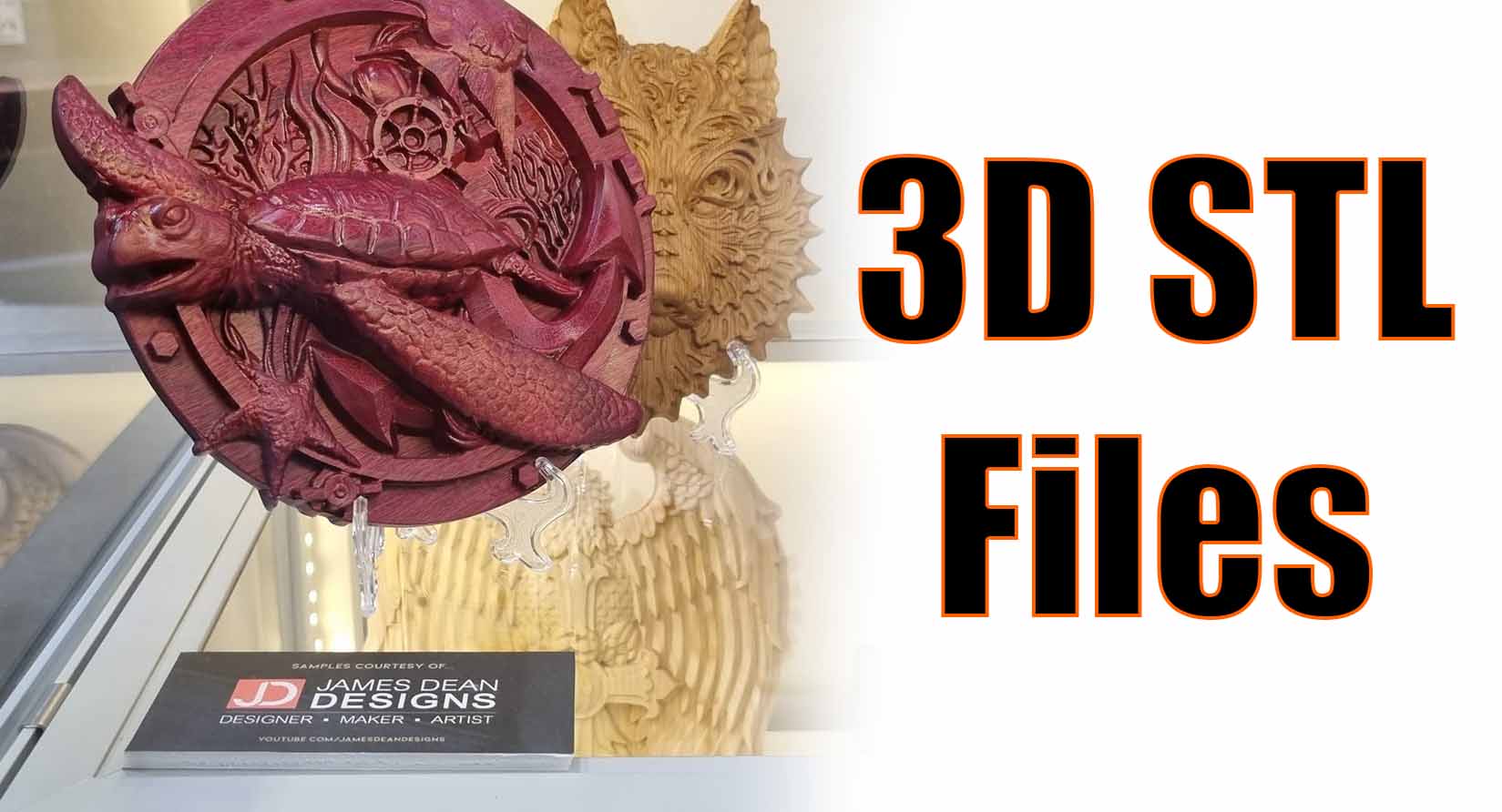 Where can I find 3D STL CNC models?
Below is a list of some of my favourite STL sites, free and paid for. Further down there is also a comprehensive list of sites which host STL and 3D model files.
STL files can be used for both CNC relief work as well as 3D printing.
It is also worth pointing out that quality CNC software such as Carveco come with a library full of STL files for you to use. A 90 day free trial of Carveco Maker can be found here and using the discount code JAMESDEANDESIGNS will also get you 5% off.
Please note: If a site is sharing or selling files, it does not mean they own those files or have permission to distribute them. You will often see different sites hosting the same files and the original source can be hard to find. Also, any files which contain obvious logos, characters or other trademarked intellectual property then they will likely be legally protected so be careful when using them. For example, something like the Harley-Davidson logo is often used without permission and they have been publicly known to sue those using it and making money from it, same as Disney. It is your responsibility to check what you are downloading, using and you do so at your own risk.
This is without doubt one of, if not the most popular sites for STL files and its encouraged that all files on this site are posted under the Creative Commons license essentially meaning that all files are free. However, just because they all are free, some are only free to use for non-commercial purposes so you do need to check what each one is listed as.
There are options as well to remix files will allows the community to develop or adapt each others designs, continuing to grow the collection of files available.
Thingiverse does get heavy criticism for the actual functioning of the site and its search feature as it can often return some very random result which have no relevance to what you have searched. As it is also a free site, it does have quite a few adverts appearing which can be frustrating but the site owner do need to make money at the end of the day.
Free-stl.ru – Read below before using this site
This is one of my best resources for FREE CNC 3D relief files, but also one of the more questionable resources and I am openly honest about this. There is no doubt some of the files on this site do not belong to them, but they also have files which I have not found anywhere else giving me a reason to believe some are authentic. Working out which is which can be the tricky part but groups like this essentially function by getting files from various open sources such as Facebook groups or other repositories.
The site primarily displays in Russian and is loaded with lots of adverts and some pop-ups but if you are using something like Chrome, it will give you the option to covert it to English (or another language). If you get a Russian advert pop up and it has two buttons, one white and one blue – CLICK THE WHITE BUTTON.
The site requires you to log in to download the files, I would suggest not using your primary email to do this and do not to use a common password.
As the site is full of adverts, it can make the actual download button difficult to find so be careful – If you are not comfortable on a website like this then do not use it.
CncFiles4All – Facebook group (kind of)
A little like the site above and a lot of other Facebook groups, this is a questionable resource. They openly point out they do not own any of the files they host so use at your own risk, but equally they do have a great collection because they source their files from lots of locations, some of which I know are free to be shared and used.
The reason the title says "kind of" is because whilst the group started on Facebook, they ended up moving there files onto another platform called Keybase. Once you join the facebook group it gives you the instructions to install and use the Keybase collection of files.
This is a very popular site amongst the 3D printing community but they do also feature files for 3D relief carvings as well so worth having a rummage on there.
A lot of content is paid for, although usually reasonably priced but there is also a filter option to just narrow down for free files.
The site is also much more user friendly than Thingiverse.
The is a wonderful site which allows you to select locations around the world and export STL files of the terrain, essentially mapping the topography of the land. For example you could select a section of the Grand Canyon and produce an STl file of it.
Its interface can seem a little technical but there are helper button all over the site explaining what each setting changes. One of these option is the data source, and different data sources will hold varying levels of quality. The lower the number, the better the quality so 10m will be much better than 2000m.
Yeggi and STLFinder – 3D file search engines
These are search engines for 3D files instead of hosting the files themselves, so they will scour lots of different sites (paid and free) to return your results. You can use the filters at the top of the page to narrow down just free results.
The advantage to these is they can cover lots of different sites in one go, the disadvantage is they can also return lots of results meaning you may have to scroll through more if you're after something specific.
These sources can be particularly popular for paid STL files, especially Etsy BUT be careful in believing that because they are big brand names, that everything on here is legally ok. They are renowned for users who steal other peoples files and sell as their own, people who sell on free files from places like Thingiverse or even bundle lots of creations and sell them as mega packs. You only have to spend a few minutes on Etsy and you will quickly see two sellers with the same files, same photos at different prices. As a result it makes it very difficult to find the true owner of some files.
Now this is slightly tongue in cheek given that two source above probably give away other people creations for free but there are differences (in my eyes). Etsy typically take quite a bit of commission from any sales, and more so if its from a forced placement. So even though they know illegal activity is taking place on their site, they do very little about because ultimately it is making them money and not in their own interests to police this kind of activity. Don't misinterpret what I am saying, they are a large profitable business so they have to show an element of trying to minimise this illegal activity and I have no doubt they do remove content but probably no where near enough.
More sites to use
This is not a list I complied my self, I have seen this list posted on various Facebook 3D printing groups but is very comprehensive giving you a wide range of files and options.
https://sketchfab.com
https://pinshape.com/
http://www.3dshook.com/
https://grabcad.com/
https://www.cgtrader.com/
http://www.turbosquid.com/
https://3dexport.com/
https://www.remix3d.com/
https://fab365.net/
www.tinkercad.com/things
www.cgtrader.com
www.forge.zheng3.com
www.stlfinder.com
www.trinpy.com
www.digible.net
www.shapeways.com
www.yobi3d.com
www.youmagine.com
www.3dwarehouse.sketchup.com
www.3dcadbrowser.com
www.123dapp.com/gallery/content/all
www.libre3d.com
www.3dshook.com
www.3dexport.com/free-3d-models
www.tf3dm.com
www.treatstock.com/3d-printable-models
www.open3dmodel.com
www.archive3d.net
www.3dcontentcentral.com
www.shapetizer.com
www.Gumroad.com
https://www.stlfinder.com/
https://3d-gallery.xyzprinting.com/en-US/promotion
https://3dprint.nih.gov/
https://3dexport.com/
https://repables.com/
https://www.instructables.com/
https://libre3d.com/
https://3dkitbash.com/
http://www.rinkak-services.com/en/
https://library.zortrax.com/
https://fab365.net/
https://polar3d.com/
https://free3d.com/
https://www.threeding.com/mobile
https://nasa3d.arc.nasa.gov/models
http://zheng3.com/forge/index.php?id=-4
https://www.redpah.com/
https://digilab.dremel.com/resources/lesson-plans
https://www.3dagogo.com/
https://all3dp.com/…/free-stl-files-3d-printer-models…/
https://www.malix3design.com/?m=1
https://dtrstudio3d.wixsite.com/website
https://www.zsculptors.com
As I stated at the top of this article, with any files or sites you download and use, you do so at your own risk. Both with the actual files you download and the use of them so please be careful.